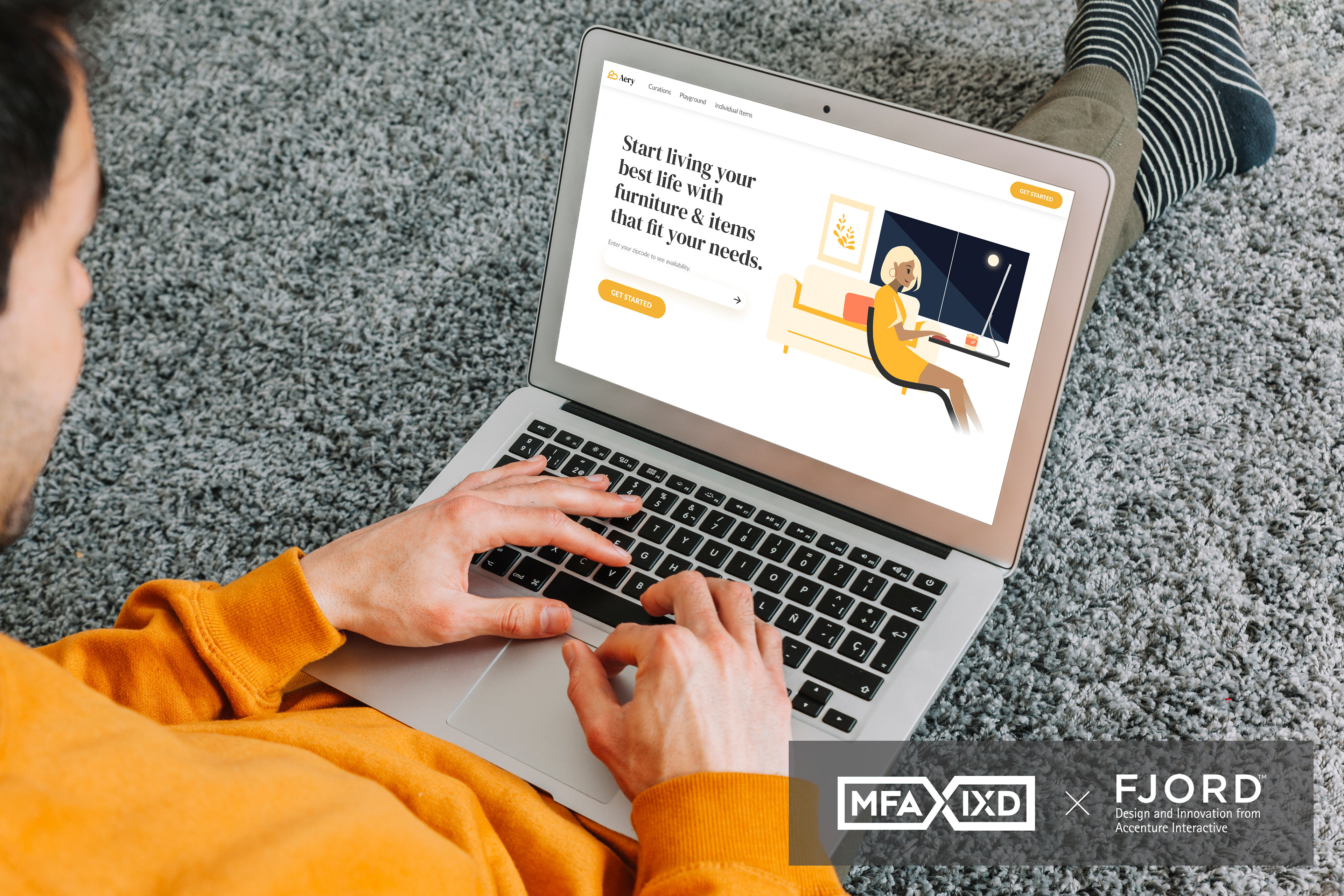 Problem:
Millennials and Gen Z aren't buying homes at nearly the rate of previous generations. What are their true aspirations and obstacles to home ownership? What might help them achieve their ambitions?

Solution:
Aery is an end-to-end home customization service based on pre-owned furniture. It makes home customization easier for constantly moving young adults, enabling them to focus on living their best life at home.
The AI recommends combos of items that fit users' needs and limitations. Users can make changes to and visualize the combos in a 3D playground, and then place orders from the platform. When moving out, just sell the items back to the Aery to save the troubles of getting rid of them in other ways.
My contributions:

• shaping the core user flow
• creating the fundamental wireframes we ended up basing our design on
• visualizing the 3D playground feature
• producing a large part of the video
Research, ideation, prototyping, UI/UX design, final presentation
Team

:
 Sophia Deng, Yuan Chen, Frank Gong, Kevin McElroy (Fjord)
Advisors

:
Roger Mader, Criswell Lappin
"Millennials and Gen Z aren't buying homes at nearly the rate of previous generations. 
What are their true aspirations and obstacles to home ownership? 
What might help them achieve their ambitions?"
This was the initial challenge prompt given to us by Fjord.
To have a quantified understanding of this phenomenon: 
"The homeownership rate among millennials ages 25 to 34 is

8 percentage points lower

than baby boomers and 

8.4 percentage points lower

than Gen Xers in the same age group"*
Interviews: 
To get a first-hand understanding of the influencing factors, we talked to 10 renters and home owners about their current housing situations and future plans.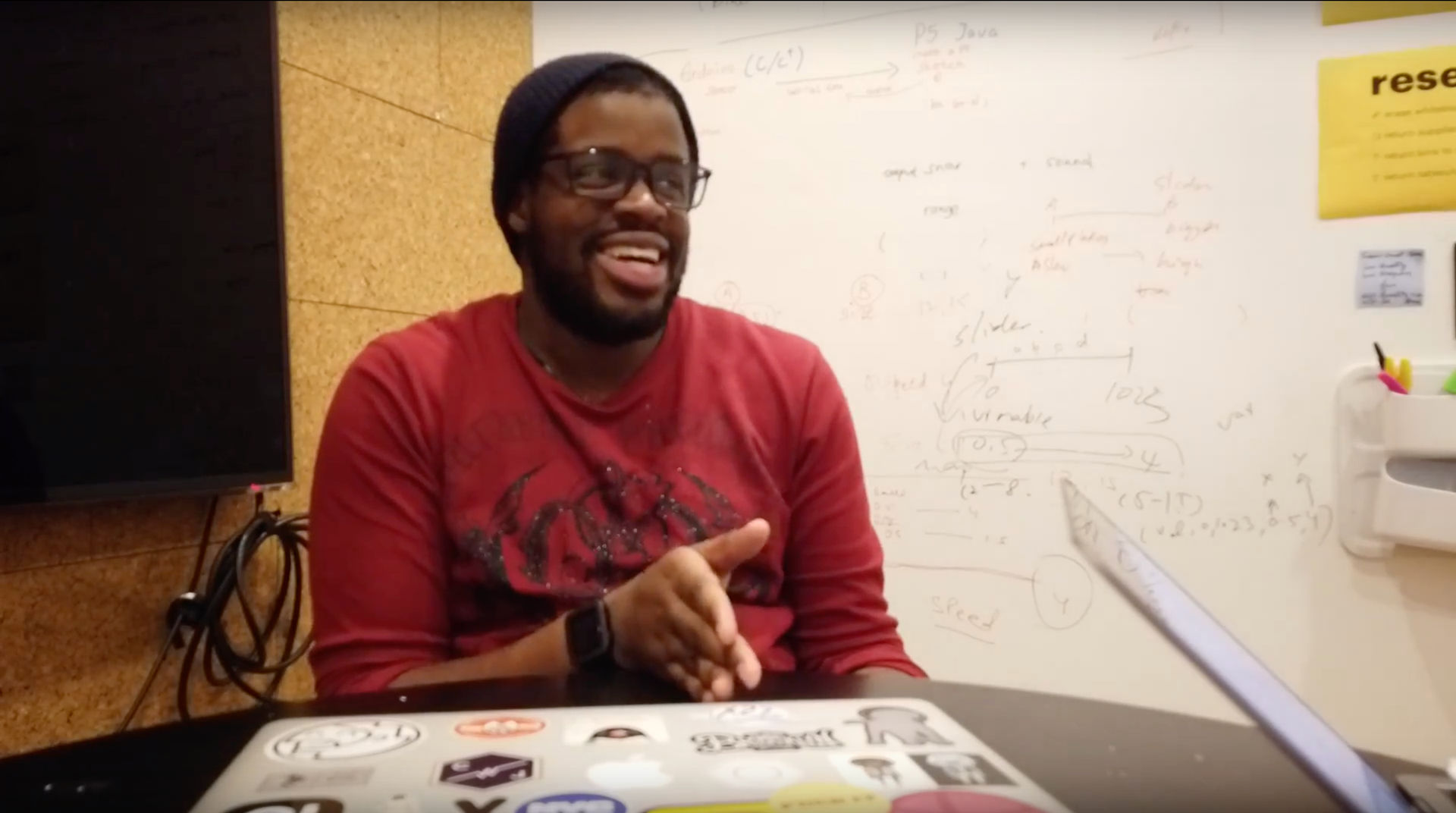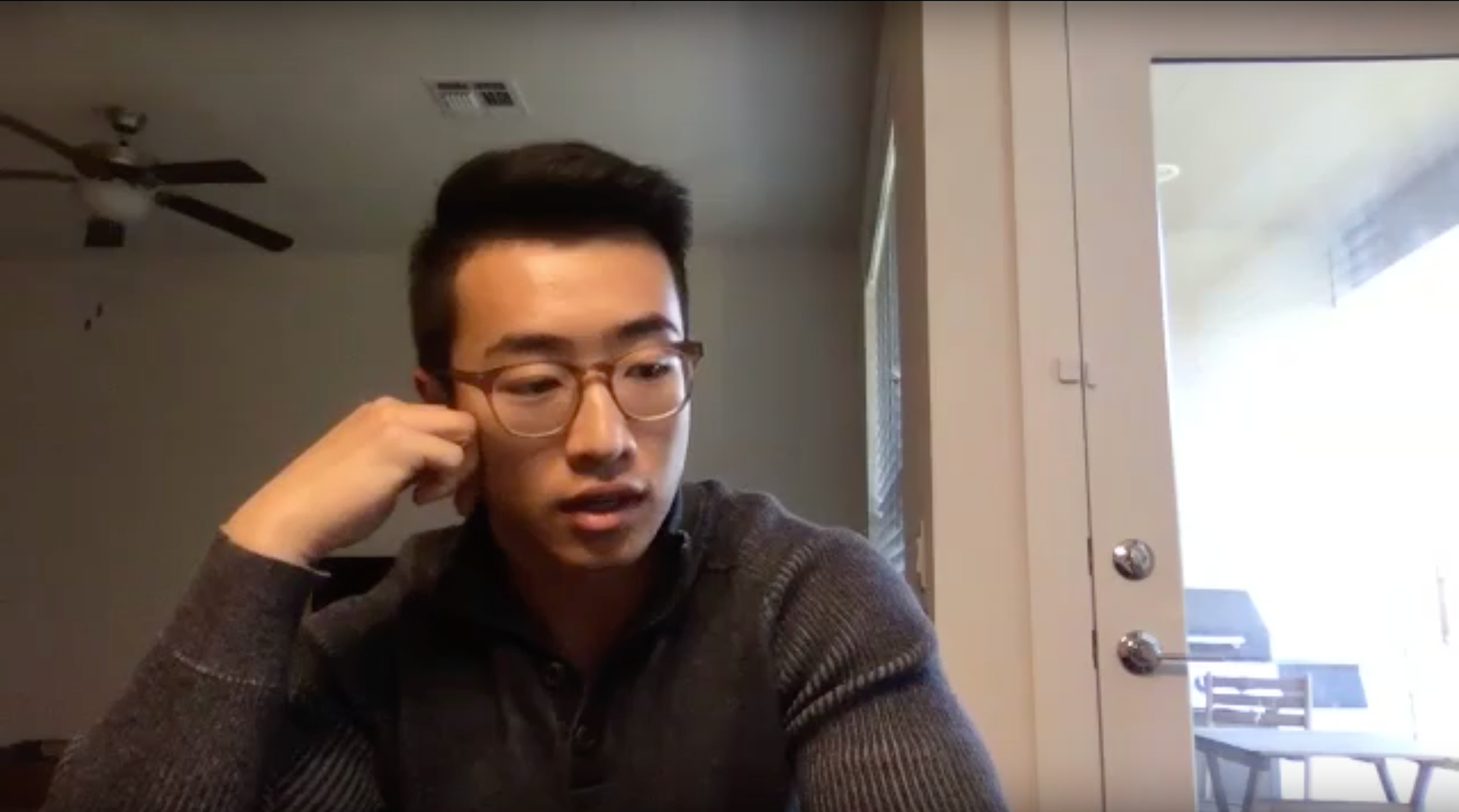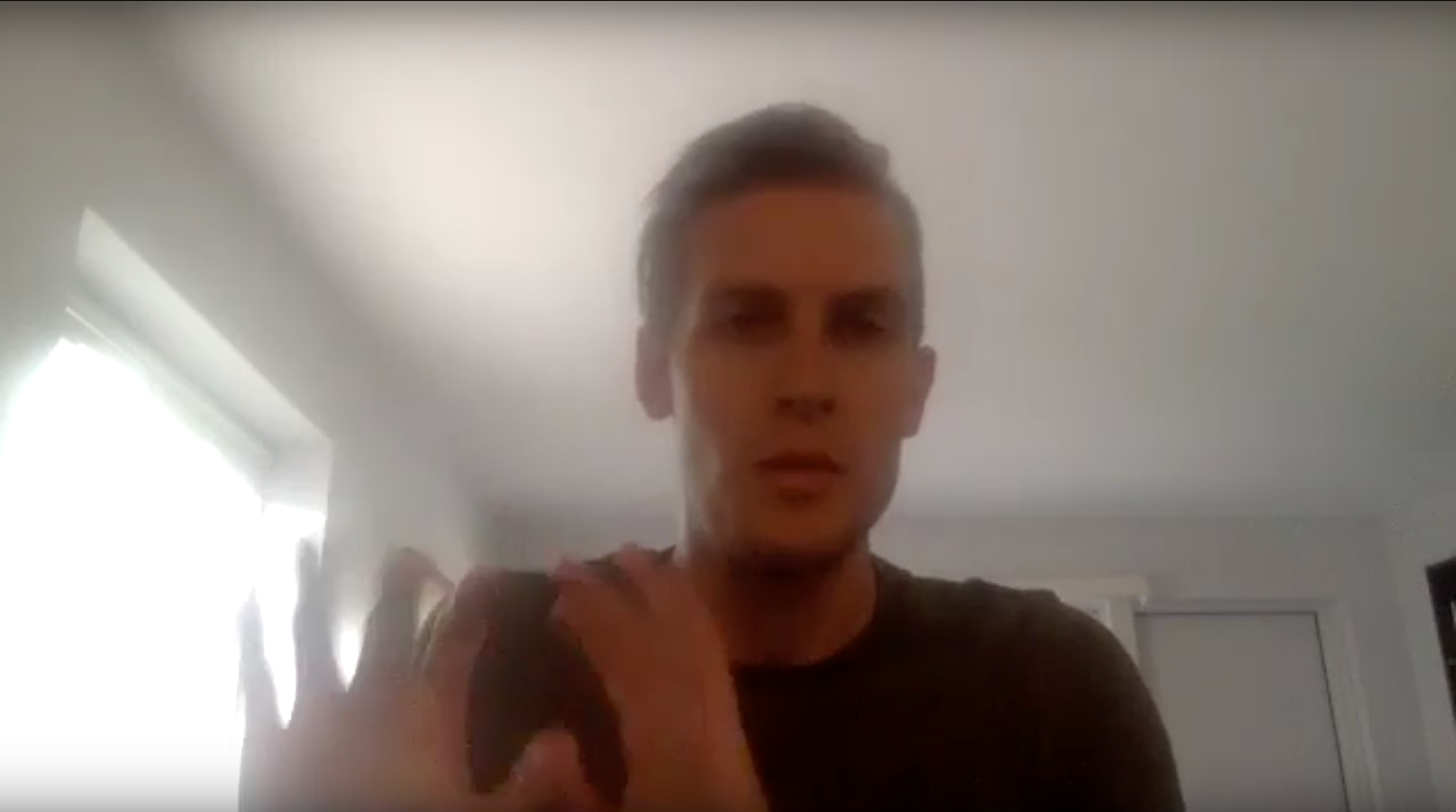 Synthesis & findings:
Among all the interviews, we noticed some recurring topics. We grouped some our findings under 4 categories:
- The
proximity to work location
is an important factor when choosing location 
- Some want to be able to
work at home
.
- They want to be
close to their friends
or communities they care about.
- They value
personal space
.
Modifications / maintenance
- People
want to customize
. Having a house better enable them to do it.
- When renting,
moving furniture is a big hassle
.
- People are into
IOT facilities
. High-tech is a trend.
-  
Maintenance is a hassle
for home owners. 
Mobility / being independent
- They are
not settled
. They plan on moving around.
- Young people are more
distinct and individual
.
-
Having a family can impact
they decision of buying a home.
- Most of them are still
renting
.
- Buying a house is seen as an
investment
.
- Their
financial situations
prevent them from getting a home. They might
get support from their family
.
-
Home buying process is a pain
.
- Most just have a
vague plan on saving
up
for a house.
In short, they do want to own a home, and have good ideas about what their home should be like. But the cost of buying a home outweighs the necessity at the current stage of their lives.
We listed out pain points at different stages and tried to find interconnections in order to identify some opportunity areas we can work on.
2. Narrow down the context
Define opportunity areas:
Upon the results of the synthesis, we summarized 3 main opportunity areas relevant to our challenge, and voted to go further with
customization
:
1. Finding the right place
2. Customization -- how do I make this place mine?
We believed this is a topic worth exploring, given the fact that the majority in this group are renting, while there are common limitations around customizing a temporary space.
Narrow down the target user group: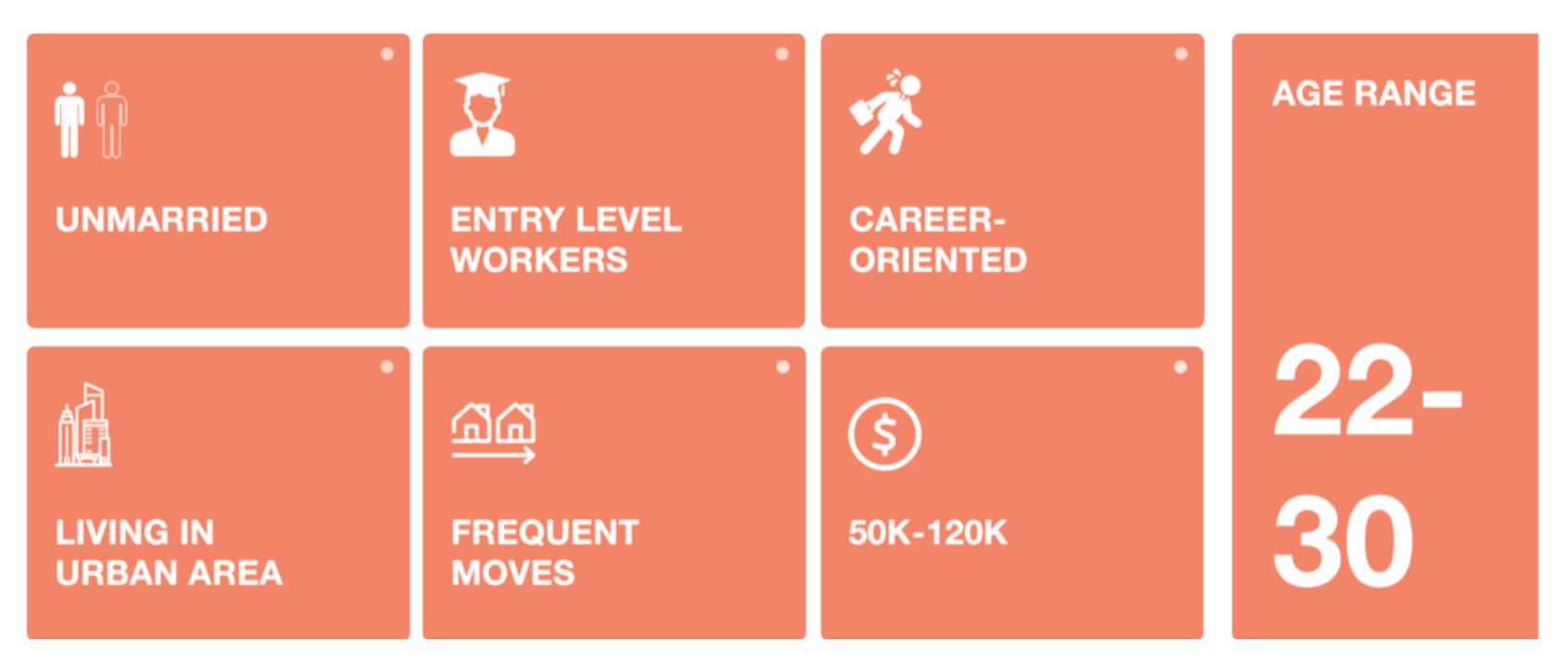 Analyze the pain point:
Our target group do want to enjoy a personalized home. Why is customization a major pain point for them now?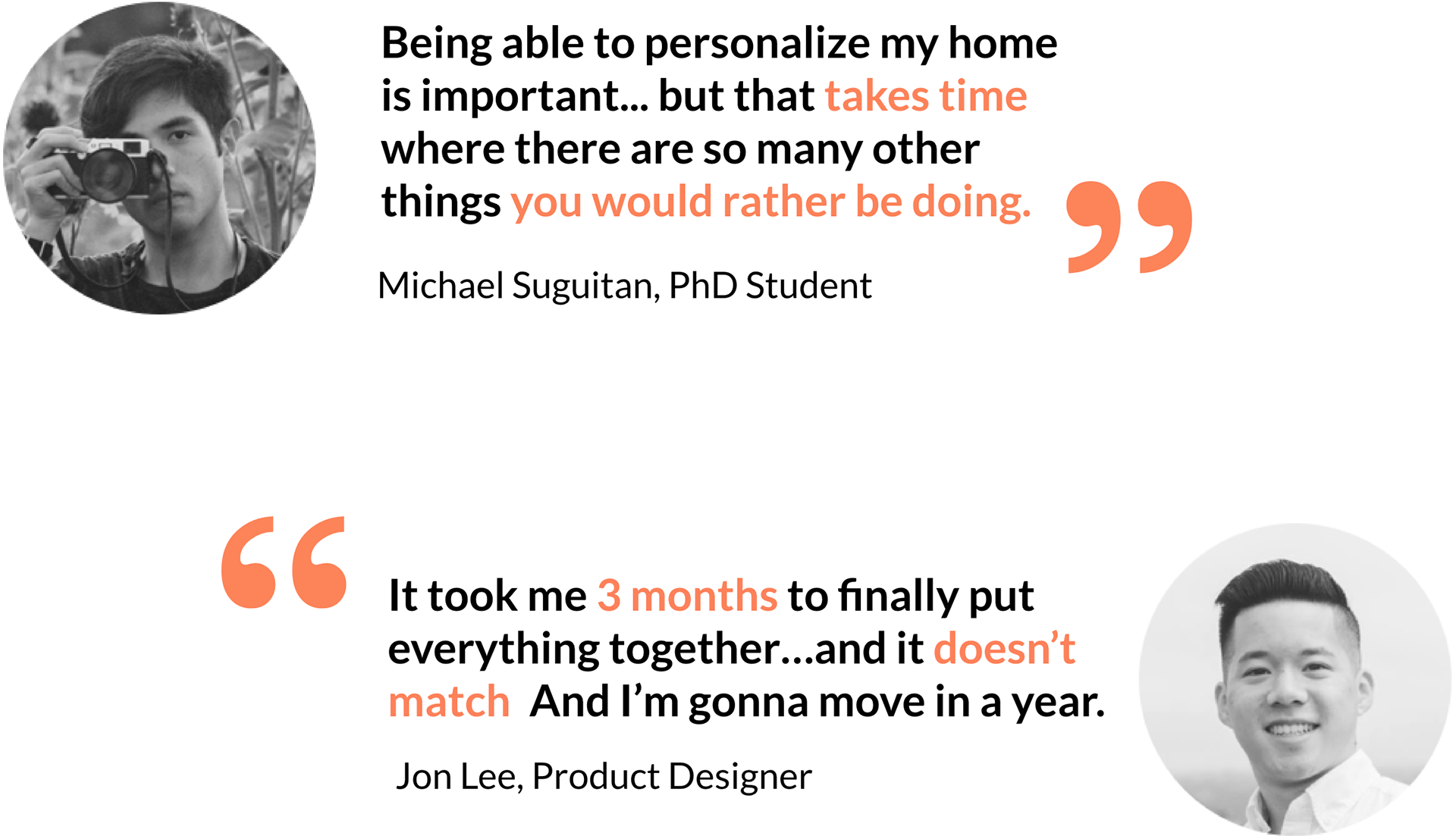 We found the root in the traits of the life stage they are at: young professionals lack money and time, and are too mobile.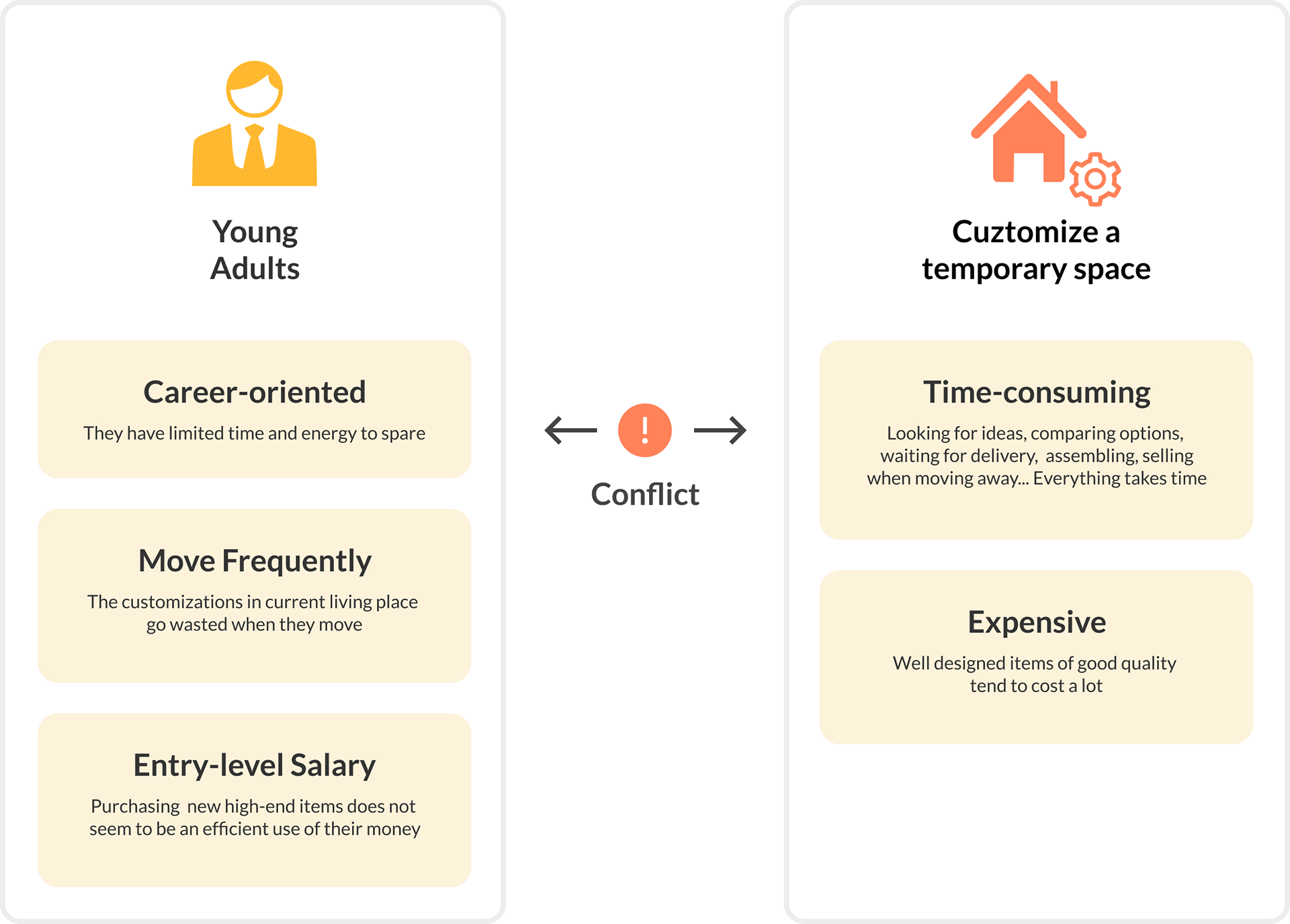 A new problem statement:
We came up with a How Might We statement to guide us towards a possible solution to the dilemma.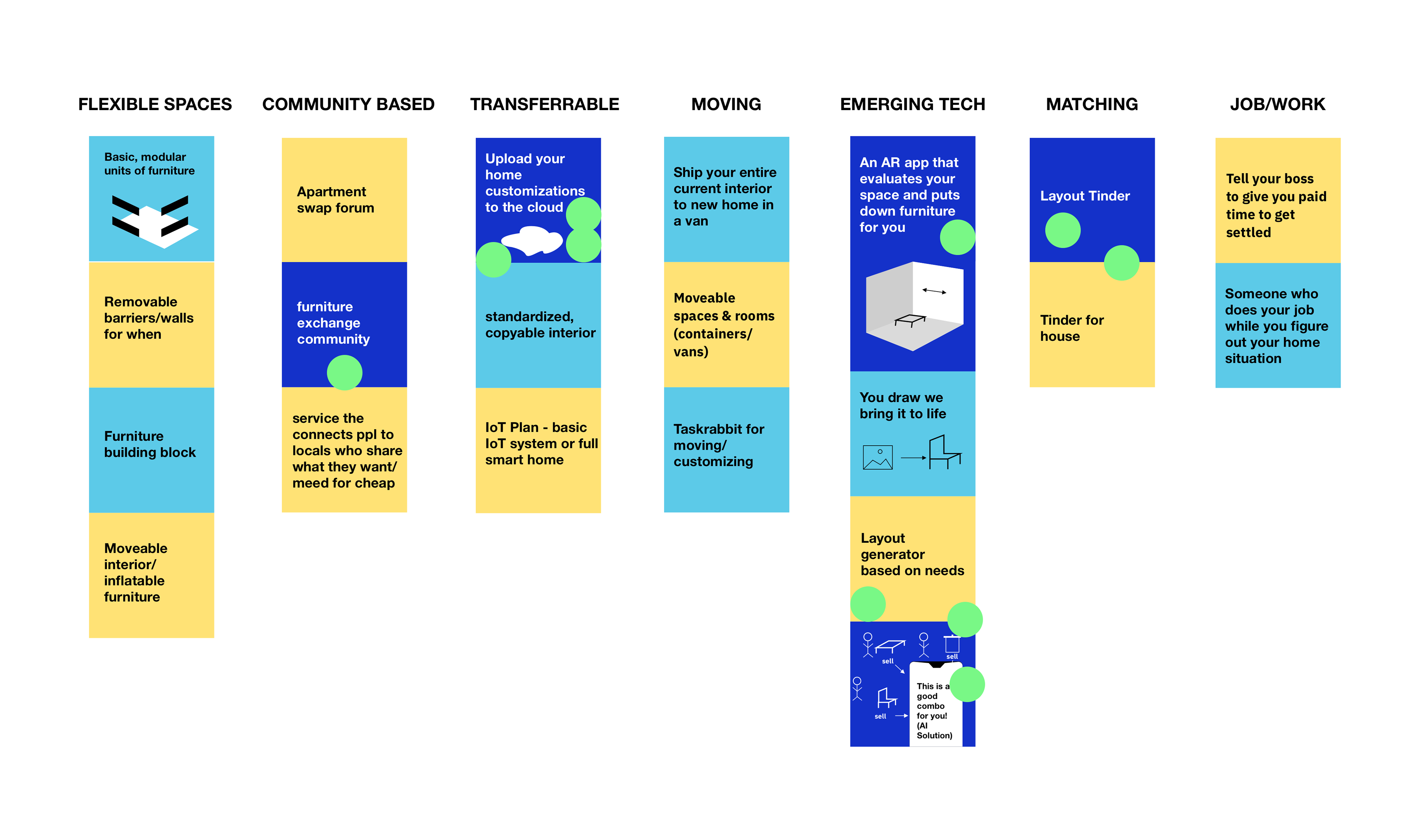 After a brainstorm session, we voted on a few ideas that we thought interesting and promising.
 -  Furniture exchange community
 -  Upload your home customization to the cloud
 -  An AR app that evaluates your space and puts down furniture for you
 -  Layout generator based on needs
User Flow:
We then combined those ideas to come up with a single user flow.
Essentially, this will be a platform that intelligently recommends combo of items according to one's need and the limit of her space. The items on the platform with be a mixture of pre-owned items with guaranteed quality and new items, so that one gets to live with nicer furniture and items at lower prices.
The user can Fine-tune the combo until they are happy with the visualization. Then they can order all the items together.
When this person is moving again, just sell the items back to the platform to save the troubles of getting rid of them in other ways. 
For a return user who just moved to a new place, the preferences are already in the system so they can gather similar items quickly.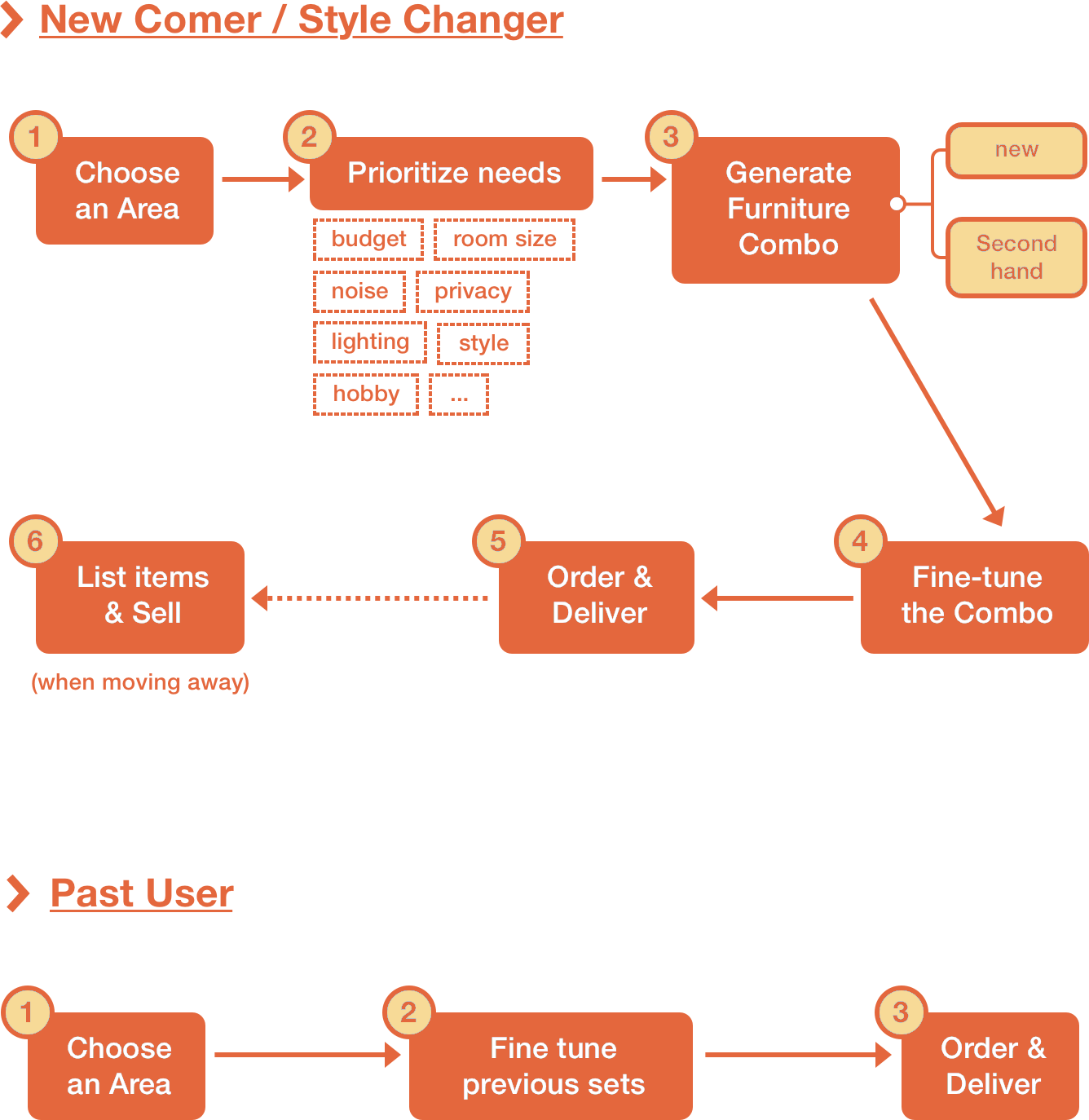 Wireframe sketches:
To not limit ourselves, we made 3 different sets of wireframes separately to explore the best structure of the solution.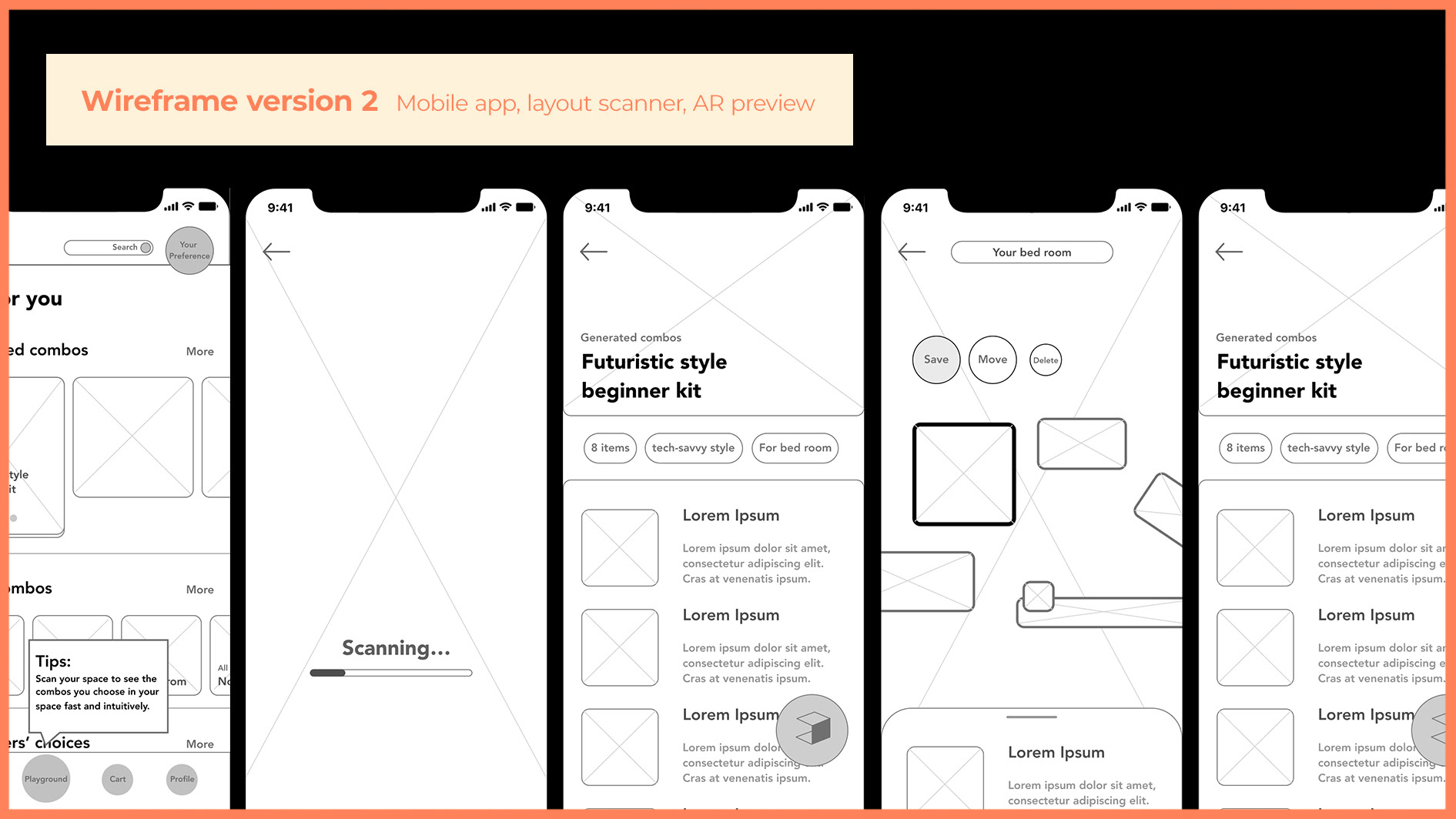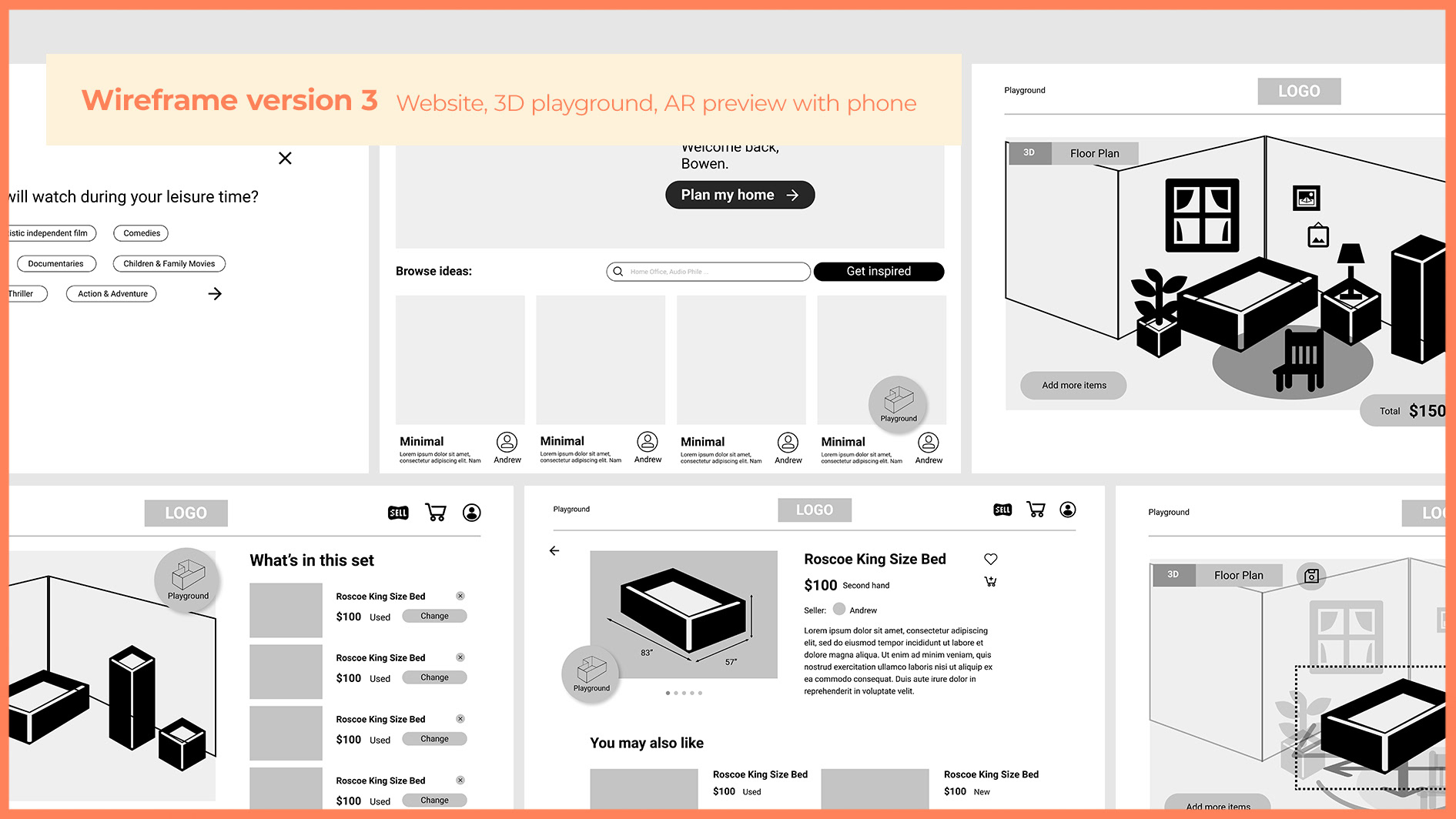 Test the wireframes:
We showed about 10 people the wireframes to get some feedback.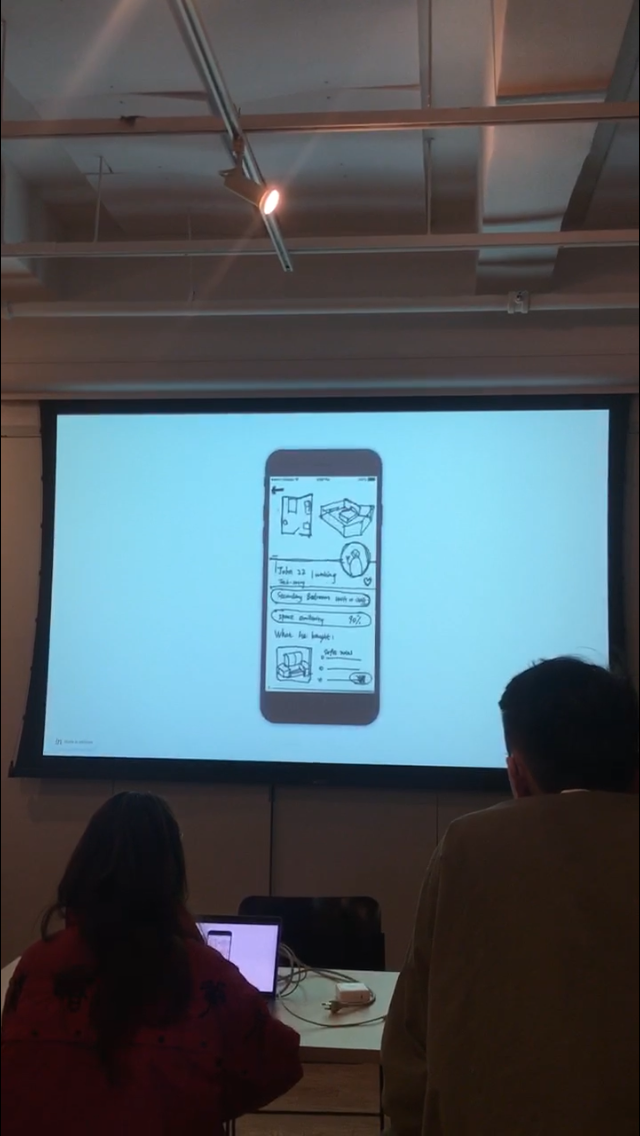 Key feedbacks:
- The current features meet people's needs.
They thought this would be a useful tool to decorate their new living space according to their needs and preferences.
- They worry about privacy leak.
If an AR feature is going to be implemented, the information should be kept local.
Unified information architecture: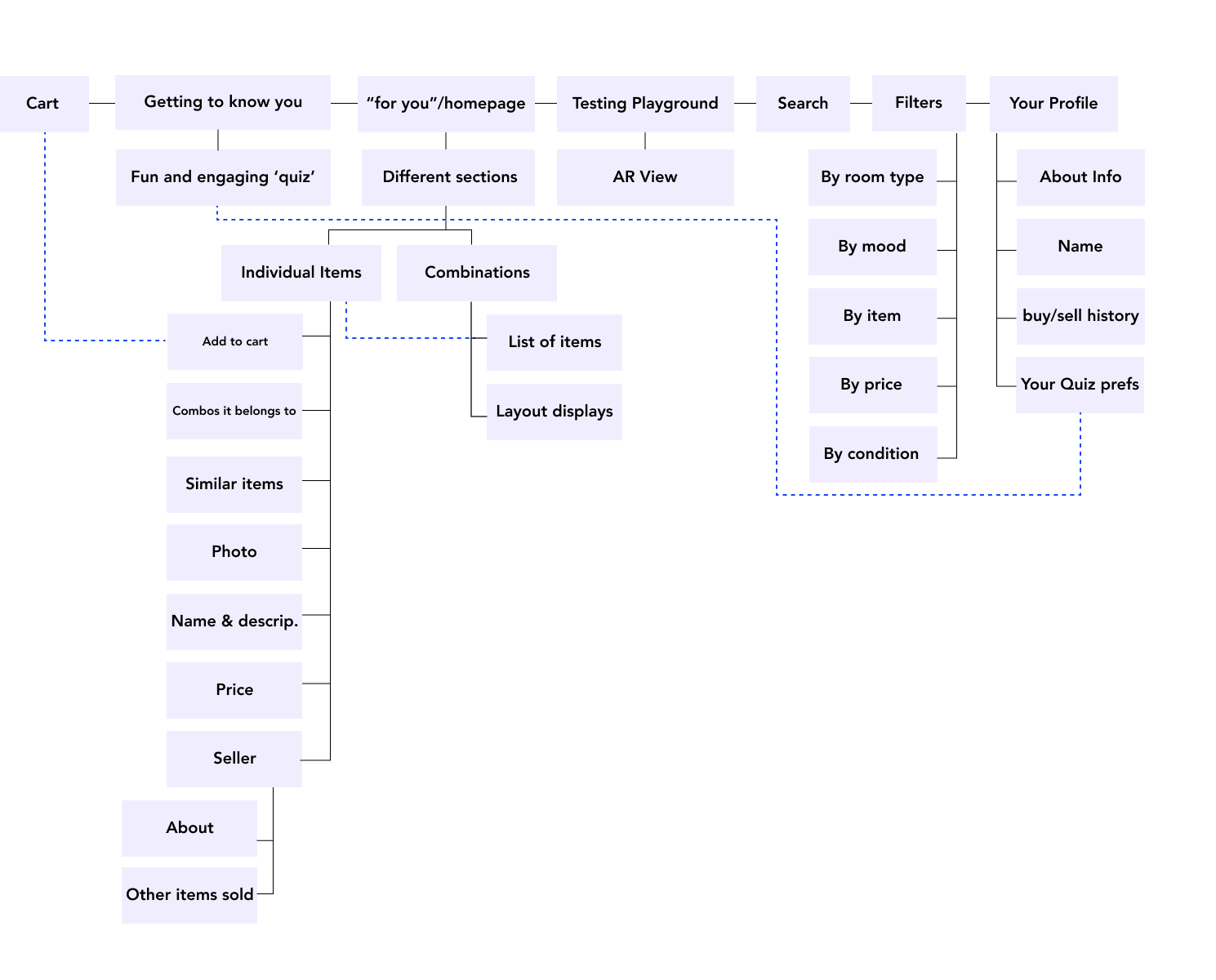 While we were shaping our solution, we looked at other home-related services in the market, and compared our solution with a few main competitors. 
We believe our product have great competitiveness in personalization, while also maintaining advantages in other aspects. Our price would not be the cheapest, but is still within an acceptable range; this also enables us to keep higher levels of product and service quality.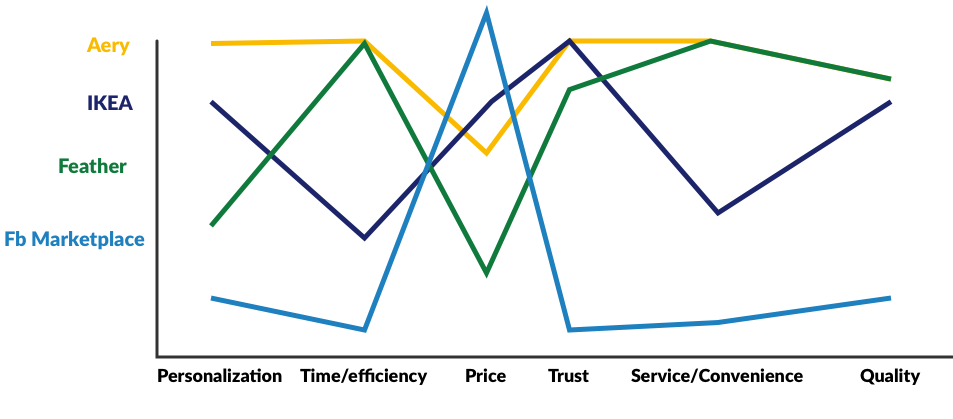 Naming: 
The name
Aery
carries lightness. We wish using our product lifts burden when people are making moves.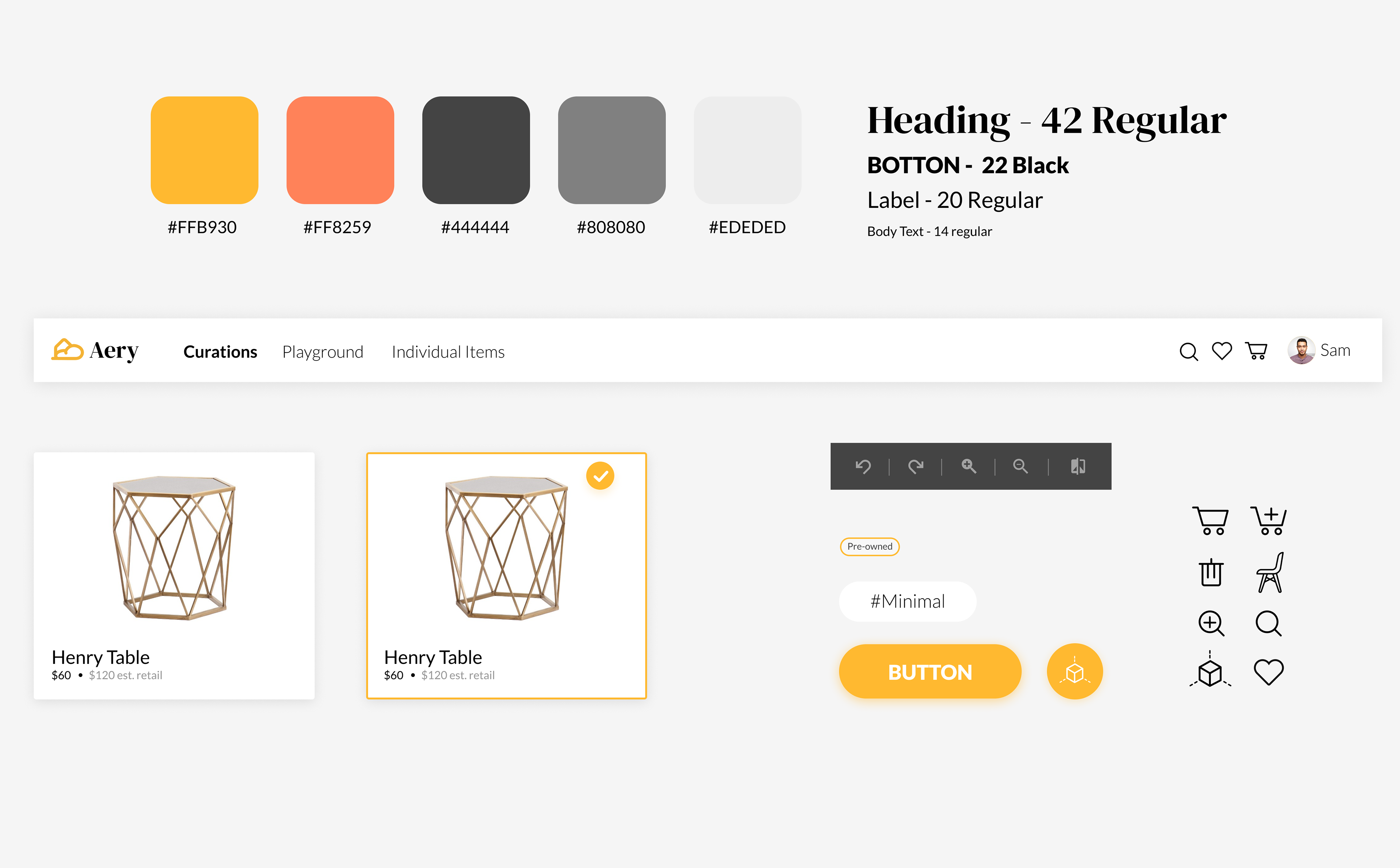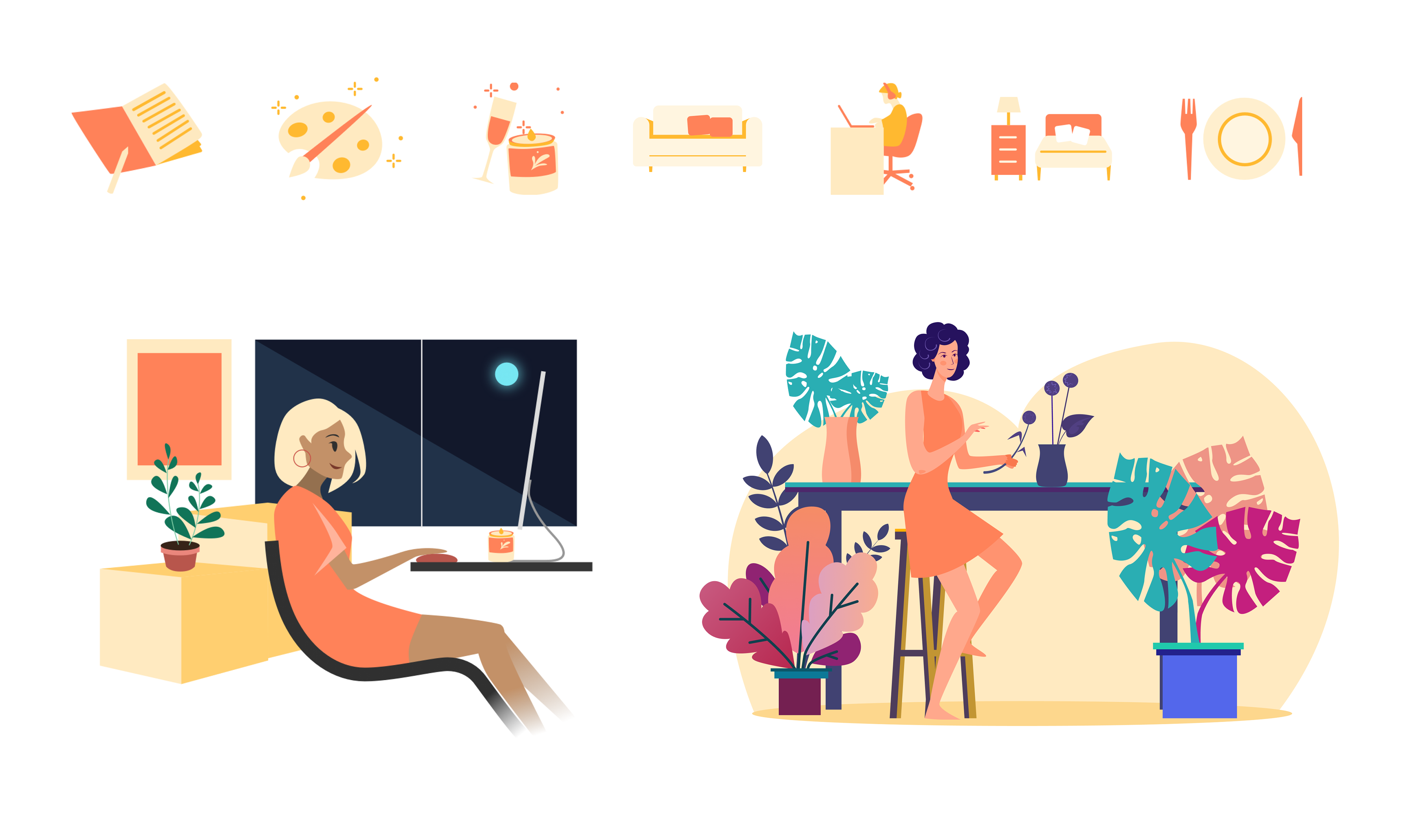 Aery translates your aesthetic preferences, needs and limitations into unique sets of items just for your home, saving your time and money from scouting for inspirations, hand picking products or hiring an interior designer. 
See your design in real space
No more worries about whether the items fit into your space or match with each other. Upload your floor plan to the playground to see the 3d models of items populate your home.
Keep your faves, and get new ideas within a click
The playground allows quick explorations of ideas. Lock down the items you like, and swap the rest, till you find a perfect set. The lock downs also allow Aery to learn more about your style preferences. 
Guaranteed sell back program
Finding ways to get rid of items when moving away is not a nightmare anymore. Aery guarantees to buy back items you have bought from our platform. After an evaluation of conditions, you can get instant money back .
Why Aery matters:
Since we know that young adults are buying homes less and choosing to rent instead, we decide to go with the flow and design a service that truely serves their current living situations. This housing trend will continue, which is a promising opportunity for Aery to expand. We hope it can bring an easy aesthetic lifestyle and sustainability to a global scale.  
Highest population growth
for 8 consecutive years, ~3% 
6.9% of residents
in 2017 lived elsewhere a year earlier
Growing job opportunities
Cheaper
and more abundant real-estate
Our next step is to pilot in Austin, Texas because it consistently has one of the highest population growth rates of any US city, as evidenced by these percentages here. Coupled with the growing number of jobs, it is rapidly becoming an extremely urbanized city. So right now, we have to seize the opportunity to lay roots here while land is still abundant and cheap. And because of this, beginning in Austin is an investment that will pay off and allow us to continue expanding to other cities in the years to come.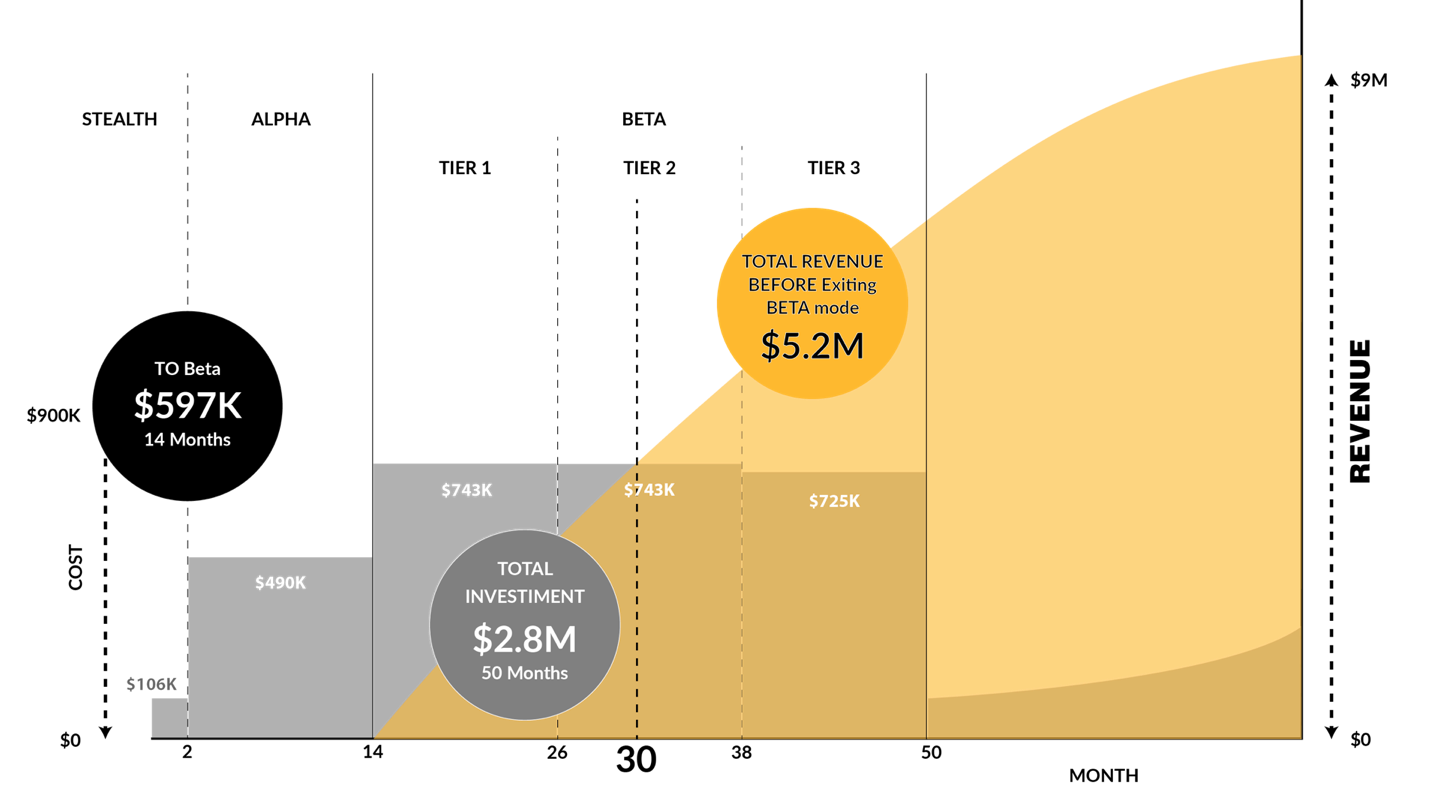 The first innovation is the partnership model with furniture and home good companies. This is where all of our items are sourced from.
Through strategic partnerings with up and coming brands, we have a wide array of diverse and high-quality sources of furniture and items, which enables us to offer accurate, unique and "preference-first" personalization experience on our platform.

02 Product circularity model
The second innovation is the product circularity model empowered by our guaranteed sell back program. This both allows us to profit and makes it easy for users to sell things they don't want anymore.
New furniture and items from our supply companies will enter our circular model after first-time customers sell them back and become pre-owned. Then we can make a profit by reselling them constantly on our platform. 
This is also to the customer's benefit because the guaranteed sell-back program means that they will gain at least 65% of their money back when they sell items bought on our platform back to us. So they can pay less money to enjoy higher-quality furniture and items. 
Furthermore, this model also helps us champion environmental sustainability in the furniture industry by reducing furniture waste.
1. This is a successful project in a sense that it well addresses the initial prompt we were give, and people see practical use in it according to the feedbacks.
2. I have gained a lot experience by playing different roles and adopting different frameworks during this project. It was also a good lesson in teamwork: different people might have different opinions about what is a good idea, and we have to resolve the disagreements in reasonable ways. Moreover, I have (once again) learnt that product design processes rarely go smoothly; you have to go through some confusion and frustration phases to see it comes to fruition.
3. It would have been better if we could reach a wider range of Gen Z to interview. The people we could interview were all from our own network as a result from lack of resources. This is a biased representation of Gen Z in terms of education, job, gender and race. We shaped our target user according to what they are like, because we have limited understanding of people we could not reach. I think this is a bit dangerous, since we tend to project our own assumptions to the users; and if designers do this all the time, groups who are different from us will be marginalized in a world shaped by us. I wish there're opportunities in the future for me to empathize with people I used to have little contact with.